H
ere is a post from
McDonald's Happy Meal Toy Study
. Previously I wrote about Wal-Mart possibly coming to DC (NE and SE) to address the growing food desert problem and the burgeoning childhood obesity problem. Michelle Obama doesn't have to go far to see a generation of kids who don't exercise enough and who adore McDonald's more than they do the grocery store.
Having lived in Congress Heights and Anacostia for eight years, I remember vividly just three years ago when my community got our first grocery store:
The Super Giant on Alabama Avenue.
Before that, we had to go across the Ward boundaries or over the bridge to Virginia or Maryland just to shop for a bag of apples. But apples weren't what Ward 8 citizens wanted. They wanted the Big Mac and the kids yearned for the Happy Meal.
RUNIN Ronald
To address this issue, a few of us at the
George Washington University MBA Ethics
class are studying the ethics behind McDonald's providing the Happy Meal toy as an attraction to children and the Center for Science and Public Interest lawsuit against McDonald's for predatory advertising. As part of the study, I sent an online survey to 60 respondents which asked whether McDonald's is acting ethically.
answered question

58

skipped question

Response

Percent

Response

Count

Including the toy in the Happy Meal is ethical

34.5%

20

The toy is deceptive marketing but McDonald's should be allowed to include a toy

34.5%

20

The toy is deceptive marketing so McDonalds should NOT be allowed to include it.

19.0%

11

Not sure

6.9%

4

5.2%

3
Here is a pie chart showing the results. Please click on the pie chart to get the percentage for each group.
Here's the response from McDonald's to the survey results:
In response to your inquiry, please find below a statement for your use:
"While we share in the desire to find a meaningful solution to the growing problem of kids' health and nutrition, we believe taking away a toy from a kids meal
does absolutely nothing to improve children's health, nutrition or well-being.

We are extremely proud of our Happy Meals which give our youngest guests wholesome food and toys of the highest quality. Getting a toy with a kid's meal is just one part of a fun, family experience at McDonald's.

Public opinion has – and continues to be - overwhelmingly against this idea. It
does not reflect what consumers want, nor is it something they asked for.
Parents tell us they want to have the right and responsibility to make their own decisions and decide what's right for their children – not lawmakers.
Any fair and objective review of our menu and the actions we've taken will demonstrate we've been responsible, we're committed to children's well being, and we'll continue to learn and take action for our customers that is guided by science and facts.
Banning a toy is not the way to fight obesity or improve children's well-being. Solutions will come only from education and awareness based on science and fact."
Danya Proud, Spokesperson
Location of McDonald's in DC:
View Larger Map
The Problem
C
hildhood Obesity has tripled in the last 30 years (CDC). In two studies conducted by the Center of Disease Control – one in 2003 to 2004 and one in 2005 to 2006 – that included 8,165 children ages 12 to 19, approximately 16 percent of these children were obese -- having a body mass index at or above the 95th percentile on United States growth charts. Sadly, this number has tripled in the last 30 years.

Overweight children are being diagnosed with many obesity-related illnesses which previously were only seen in adults. Consequently health care costs due to obesity has risen and if allowed to go unchecked will grow to about 21% of health care spending by 2018, according to a 2009 report conducted by the American Public Health Association. Thus health care has become a critical, hot button issue especially in light of the recently-signed Patient Protection and Affordable Care Act which aims to reform the private health insurance market and provide better coverage for those with pre-existing conditions.
As health care costs of treating obesity-related illnesses escalate, the spotlight has recently being focused on the burgeoning fast food industry. Since the food industry is saturated with fierce competition for customer loyalty, fast food chains have promoted extra value portions, $1 deal perks and toys for children.
These perks have been popular in a country reeling from a double-digit recession. Busy and budget conscious families find fast food both convenient and affordable especially single parent families who find it challenging to prepare healthy meals for their children. According to a 2004 study conducted by the National Center for Children Poverty, single-parent families are more than twice as likely to be low-income as two-parent families (59% of single-parent families are low income compared to 23 percent of two-parent families).
The trial lawyer industry using the tobacco-lawsuit model in the 1990's have over the last decade zealously argued that the fast food industry should be held responsible for the growing obesity rates and burgeoning health care costs. The 2004 critically-acclaimed documentary 'Super Size Me,' not only educated millions of viewers worldwide but convinced McDonald's to eliminate the "super sizing" option from their menu and offer a more healthier menu that focuses on salads, grilled foods, and less salt and saturated fats.
Today the focus on McDonald's and other fast food chains has shifted from making portions smaller and healthier to banning advertising that targets children. Arguably no children's meal product has been more successful than the Happy Meal. Ever since the first Happy Meal was sold in 1979, McDonald's has released thousands of varieties of toys, making them a treasured collector's item. The toy is an ingenious promotion tool since advertisers pick up the tab to include them in the meal, and it the main reason why over 2.5 million Happy Meals are sold each year accounting for nearly 40 percent of McDonald's profits.


Being Banned
So, should the Happy Meal toy be banned in DC? Lately, the growing campaign has been mounted against the Happy Meal with both San Francisco and Santa Clara County, California, banning restaurants from giving away free toys. The Center for Science and Public Interest (CSPI) is suing McDonald's to remove the toy claiming that "when McDonald's bombards children with advertisements or other marketing for Happy Meals with toys, many children will pester their parents to take them to McDonald's."
McDonald's defended their position based on the First Amendment's free speech clause. Furthermore, McDonald's argued that the Happy Meal has a more healthy option of chicken McNuggets, low fat caramel dip and low fat milk.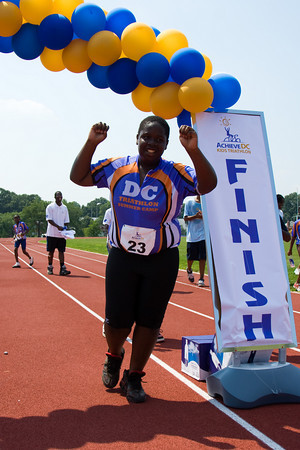 Exercise Camps for Kids
For those who feel that exercise not fast food should be the driving issue, Achieve Kids Tri offers summer programs that designs and implements youth-based triathlon training and fitness. In DC, the 6-week free-of-charge program takes place in three locations and focuses on swimming, cycling and running. The session ends with a timed short-course triathlon race, certified and sanctioned by the USA Triathlon Association.
KEEN (Kids Enjoy Exercise Now) is a one-to-one recreational opportunities for children and young adult with development and physical disabilities.
View Larger Map
So, is the CSPI looking out for the best interest of consumers and their children? CSPI, located in Washington, DC., is focused on providing valuable, objective information to the public and policy makers and have represented citizen's interests in Congress (from their website)
View Larger Map
Does McDonald's have a social responsibility to ensure that the toy has no correlation to obesity and inform Americans have such a finding? Should they consider eliminating the happy meal altogether for the benefit of the 16 percent of children who are fighting a daily war against obesity? How about the parents -- do they have a responsibility in saying "no," to their children and ensuring they get the proper amount of exercise? Will there only be one main winner here, or should they all, for the benefit of all Americans, work out a compromise that in the long run make kids slimmer and tamp down the burgeoning costs of healthcare that is gripping this country by the waist line.
Just ask the First Lady -- she is on a roll fighting childhood obesity, and what better place to make her point than in her own backyard.