I
love stand up paddling on the Potomac, but on the Anacostia?
The new Anacostia River license plate (costs $25 to purchase)
Why there's too much ice up river? Not really, Anacostia is my home and this forsaken river is my backyard.
This afternoon, I launched from
Diamond Teague Pier
, the brand new pier built to one day facilitate ferries to and fro the Nationals Ball Park. What a perfect memorial for a smart kid that cared so much for the development of his community.
Diamond Teague
was a charismatic young volunteer at the
Earth Conservation Corp
who was shot in the head in front of his house in 2003 at the age of 19.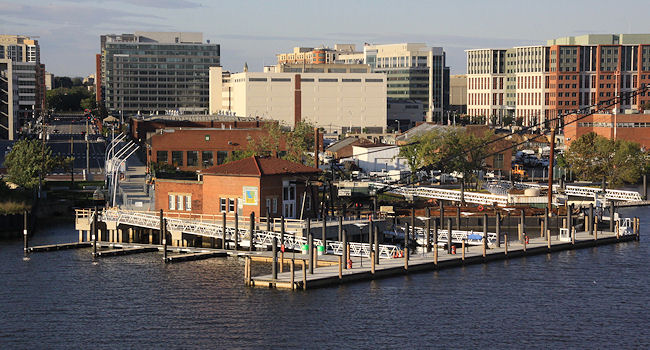 So I set paddled towards
Kingman Island
where over 50 acres of wooded trails and river views await an impassioned hiker or boater. Long the dirty, filthy stepchild to the Potomac, the Anacostia River is now making its come back.
And as I SUP'ed along the meandering river, passing the illustrious USS Barry with her venerable 5-inch guns, I was spellbound by her rustic beauty and formidable might, even after decades as a floating monument.
As I paddled past the Marinas, I disturbed a flock of geese half sleeping. Then there were the
ospreys
, resting alertly on the dock, a strong sign that the River is becoming more healthy. Ospreys are powerful birds of prey, vigilant raptors with a wing span that can reach over five feet. Some sit by the dock while others circle over their nest, looking for shad, perch, catfish or just about anything that's not dead.
The River is tidal and it flows in and out on a strong current.
The 8 mile stretch of the entire Anacostia River is fairly shallow.
Virtually the entire river is flanked by national parks and wetlands
A heron eats a dead fish on the polluted banks of the Anacostia River (Courtesy of National Geographic).
However, due to weak investment, poor development and heavy pollution, the Anacostia has become the septic tank that runs just blocks away from the Capitol and White House.
And because the river flushes slowly, it is severely vulnerable to any form of contamination, especially street runoff.
Some say the river is sick and dying. Years and years of pollution has created a thick buildup of contaminated sediment and toxins.
Last year, while picking up trash along H Street, I couldn't help but notice the plethora of plastic bags lying around hither and thither. Today, more than 20,000 tons of trash end up in the Anacostia River. It is estimated that 50% of the trash is plastic bags. DC has recently implemented a wonderful initiative to charge for the use of plastic bags in grocery stores in order to keep the
Anacostia trash free.
I say, there's hope and we need to band together.
Already the EPA, Anacostia Watershed Society, WASA, and state and local governments are trying hard to figure out a way to limit, prevent and clean. They have established a new total maximum daily load for trash in the river, kind of like a
pollution diet
. It may take a while, but swimming in the Anacostia may take a while, but it will happen in my lifetime -- I am truly convinced.
And even with all the pollution, runoff and bad rap, the Mighty Anacostia holds a special place in my heart.